I just re-did the branding and finished making the website for my YouTube music show the Panda Mix Show.
After years, the branding now finally includes an actual panda! Long, long overdue.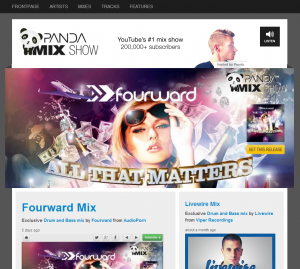 The entire website is hand-coded in PHP while using standard a MySQL database. It all fits in just one script, and each page is dynamically generated. I've implemented Alchemy's keyword and concept API to generate video keywords, YouTube's API to get video data from my channel and Google's Custom Search API to automate many tasks like finding links to artists' Facebook pages (which can become tedious if you host over 500+ videos).
The goal is to direct more viewers (and listeners) from Google Search to my music show and watch it (on my site), even if they might never watch it on YouTube.
P.S. I just wrote a book on bootstrapping indie startups called MAKE. And I'm now on Twitter too if you'd like to follow more of my adventures. I don't use email so tweet me your questions.