I started the 100 Thing Challenge 3 months ago after I sold all my stuff and moved to Bangkok, Thailand.
With about 300 kg of 200 items when I lived in Amsterdam, I purged my possessions to about 10 kg of 30 items of stuff in my bag when I came here, I figured I still had too much. Carrying my bag around was still an effort. As many before me have written, if you have to carry all of your possessions on your back everywhere, you quickly start stripping down your stuff. So I have been throwing more stuff away the last two months in the never ending journey in search of total minimalism and functionality. Here's how it looks now: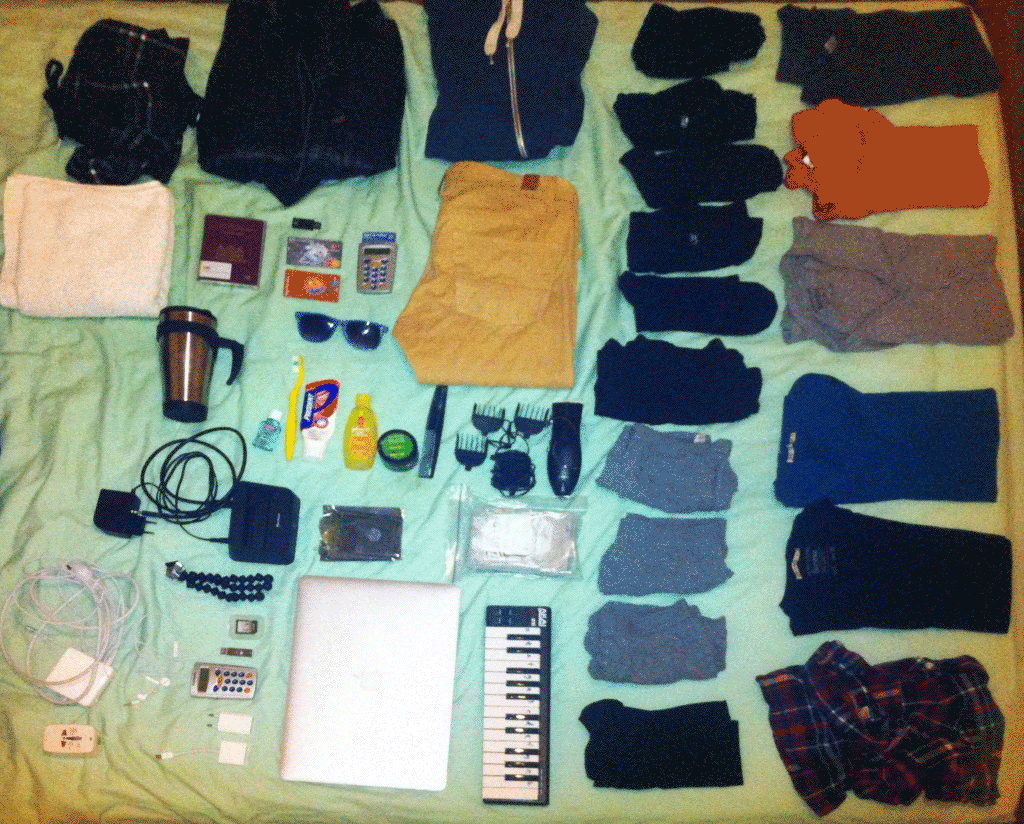 These are the items I purged:
Logitech Performance Mouse MX
I thought I'd still use it, but actually I'm not ever using my mouse anymore after I switched from a PC desktop to a MacBook.
Clothes
I got rid of 1 t-shirt, 1 piece of underwear since they were torn a little.
I got rid of 1 sweatpants and 1 hoodie sweater, since it's simply too hot here to ever wear them any way.
iPhone charger
I actually lost this one, but I was going to get rid of it anyway, it's too big and you can charge your iPhone through USB instead!
AKAI LPK-25 Mini Midi Keyboard
This is the mini keyboard I used for making music. Instead of the reason here being that I might have stopped making music (I have not!), it's that I have learned myself to play the music keyboard with my actual MacBook Pro's keyboard. Ableton Live allows you to use the ASDFGHJKL row of keys as the white keys and the WETYUO as the black keys. It actually works faster since you don't have to move your hands around. And it saves a lot of weight.
Thermos cup
A big cup to keep coffee/tea warm in. Well that turned out to be completely useless. Who was I kidding? I'm not out in the wild here or anything and there's plenty of hot water, coffee or tea available everywhere here. Out!
Pair of shoes
I walk on flip flops everywhere here, and my Nike shoes take up a lot of weight and space, so I got rid of them too.
4 pair of socks
Since I don't have shoes, I won't need socks anymore either.
1 towel
I lost my towel on some Thai island I think. I'm now just using the towels of the places I stay at, appartments, condos or hotels.
This sheds about 6 kg which brings the score from 300 kg to 4kg (or 200 to 20 items) of stuff.
I have (~20 things, 4kg)
Backpack + dry cover
Apple MacBook Pro 15″ Retina + charger
Apple iPhone 4 + earphones
Sony MDR-7506 Headphone
Travel adapter for power
Western Digital 2.5″ 500 GB encrypted backup mirror of MacBook Pro (always on me)
Western Digital 3.5″ 3 TB encrypted backup with all my data
2 GB USB stick & 4 GB SD card with encrypted copies of all my official documents in case of emergency
Collection of debit cards, credit cards, insurance cards, passport and medical passport
Bag of medicine in case of emergency
Hygiene kit of toothbrush, deodorant, shampoo and shaver.
5 pieces of underwear (haha, don't worry I do laundry every three days)
4 shirts
1 jacket
1 swimming shorts
1 pants
With 6 kg gone, I worked for a few months more and then my 6 months in Thailand were finished »
Or…read how I went from 100 to 0 things a year later (admittedly not by choice) »
P.S. I'm on Twitter too if you'd like to follow more of my stories. And I wrote a book called MAKE about building startups without funding. See a list of my stories or contact me. To get an alert when I write a new blog post, you can subscribe below: