While resetting my life, I got rid of most of my possessions and without even realising I passed the 100 Thing Challenge. I love what Ronan wrote about "not owning shit".
Depending on what you count I got rid of about 320 kg or 700 lbs of stuff equaling about 200 things. I now live with about 5 kg (11 lbs) or 30 items and have a few boxes totaling 20 kg (45 lbs) in storage. It's a very refreshing thought to know I have this little and I'd like to keep it this way for awhile. With most stuff going digital now, such as books, music and other devices, I really do not need much except for my MacBook.
I obviously make use of the resources of others to eat and drink outside, although since I live in Thailand now, that is cheaper than doing it myself.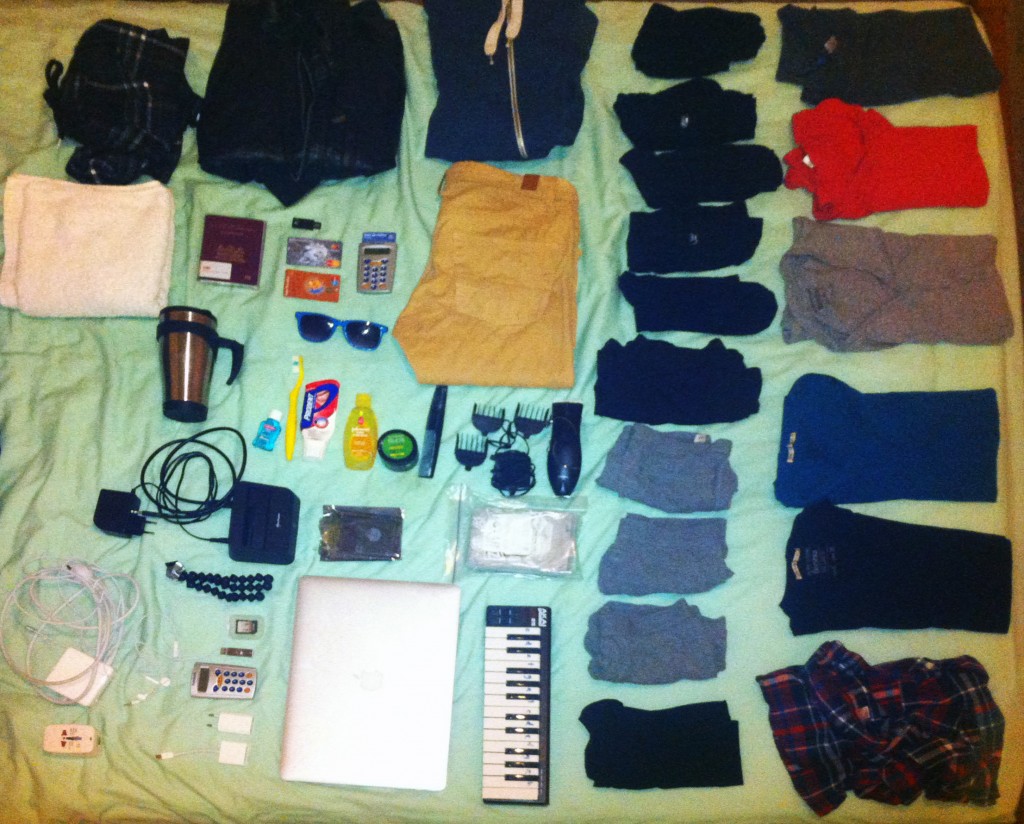 I have (30 things, 5kg/11lbs)
Lowe Backpack + dry cover
Apple MacBook Pro 15″ Retina + charger
Logitech Performance Mouse MX
Apple iPhone 4 + charger
Travel adapter for power
Western Digital 2.5″ 500 GB laptop backup disk (always in my jacket)
Western Digital 3.5″ 3 TB disk with all my data
2 GB USB stick
4 GB SD card
Tiny sleeve of emergency medicine
Collection of passport, debit cards, credit cards, insurance cards and medical passport
Hygiene kit of toothbrush, deoderant, shampoo and shaver.
6 pieces of underwear
6 t-shirts
1 swimming shorts
1 pants
4 pair of socks
1 towel
1 pair of shoes
Akai LPK25 Midi Keyboard
Sony MDR-7506 Headphone
1 pleather jacket
1 sweater
1 sweatpants
I stored (~3 things, ~20kg/45lbs)
2 boxes of nostalgic items (like photos, stuff I made and some important books for me).
1 box of old backup hard drives (as a backup for if I lose my drives)
4 hard drives spread around with all my data encrypted
I sold (~15 things, ~100kg/220lbs)
Apple iPad 32GB
ASUS 1201n Netbook
PC with 6-core 3.2 GHz and 24 GB RAM
Mackie HR824 monitor speakers (2x)
Samsung 19″ TFT Display (2x)
Canon 7D + lens + memory card
Manfrotto Camera Stand with HD video head
Canon HD Beamer
Philips Living Colors lights (2x)
IKEA Desk Light
IKEA Room Light
Propellerhead Reason 5 music software
I gave away (~60 things, ~200kg/440lbs)
Red desk chair
Desk table
Teleprompter/autocue box
One black couch
SSD Reader
Mini Camera Stand
Sennheiser Clip-On Mic
iKey Mobile Audio Recorder + adapter
Microphone stand
GlideCam Camera Stabilizer
Desk Fan
5 sweaters
30 t-shirts
10 pants
Red swimming shorts
I am well aware of some of the hypocrisy of the minimalist lifestyle.
I'm a privileged white male European with income and savings. That's an easy position to be in to get rid of all your stuff. I have the luxury of being able to buy the food I need from the 7 Eleven around the corner or walking into a restaurant to have someone make me food, whereas most people in the world need to stock up large volumes of food to be able to afford eating at all. In an emergency I have a creditcard to fall back on while most people in this world do not. There's a reason you see homeless people in America hoarding stuff, it's because that's all they have and they need it to survive.
I have funds to survive and that's a huge privilege. I am well aware of this. Nonetheless, I still feel this lifestyle is better than the endless consumerism we suffer from in the West where buying and hoarding stuff (that doesn't actually make you happy) has now become the de facto standard.
See here how I did in the 100 thing challenge after 3 months »
P.S. I'm on Twitter too if you'd like to follow more of my stories. And I wrote a book called MAKE about building startups without funding. See a list of my stories or contact me. To get an alert when I write a new blog post, you can subscribe below: