When I came to Thailand after moving from Amsterdam in April, my plan was to transit through Bangkok and move on to Chiang Mai in the North of Thailand. From the stories I heard, it would be much cheaper than Bangkok and there'd be many foreigners with online businesses like me living there already, which sounded interesting.
After 2 months of Bangkok, I had completely lost track of my plan. I ended up living here. Bangkok was too much fun. Bangkok had the hustle & bustle of a major city like New York, the grime of an Indian village and held potential of nightly adventures of any Asian metropole. I couldn't rent an apartment here because I was still supposed to transit through Bangkok, not live here! After too much partying and not enough working, and staying in hostels had become a bit of a drag, I had to get back to my plan.
I finally flew to Chiang Mai in June. I had already told the Hubba co-working space founders I was going there and they introduced me over email with Em and Pique who founded a similar co-working space in Chiang Mai called Punspace. The flight was great and after arriving I checked in to a hostel at the east of Chiang Mai called Parami, just over the river. It was run by a super friendly Swedish guy called Roger who helped me out with getting around the city.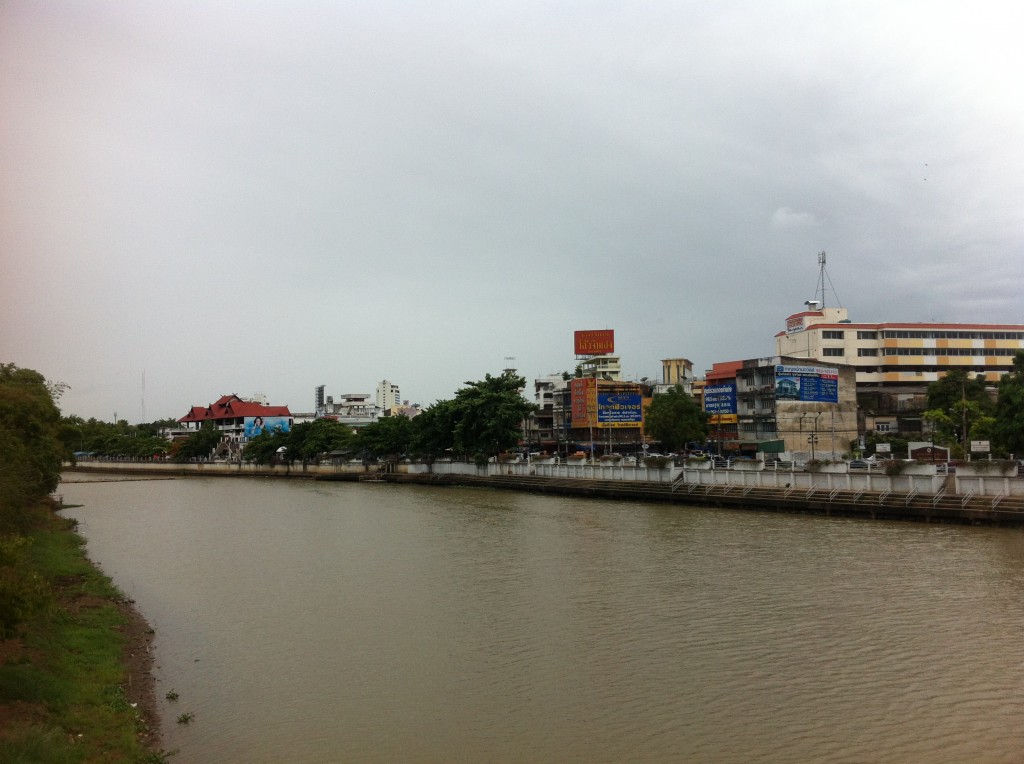 My first impression was not good. The first week, I actually hated Chiang Mai. This place was completely different than Bangkok. Unlike Thailand's capital, where there is street food about every 10 meters, here I couldn't even find any food stalls on the first day. I was eating ham & cheese sandwiches from the 7-Eleven to survive. I tried to get around the city but unlike Bangkok, there was no sky-train, nor was there a metro underground. I was walking everywhere and when I had walked enough, I tried to get a Tuk-Tuk. Well they asked 3 euros (150 baht) for a 5 minute ride. Ridiculous. In Bangkok, I'd pay 40 baht in the sky-train to get to the other side of the city. I found out there were red buses driving everywhere, they were supposed to be cheaper and would get you anywhere. I asked them for a ride, but they asked 2.50 euros (100 baht) for the same rides. Still too expensive. It's my principle to not overpay, since I'm on a budget, and since it will just push prices up for future tourists when they know they can rip you off. Finally, Chiang Mai just so silent. Nothing seemed to happen here, and it looked like a completely boring town.
What a terrible start this was.
How could anyone live in this city I asked myself?
It took me a week to figure things out. Asking everything to everyone was the only way to get information.. The information on Google regarding Chiang Mai completely lacked. I found out that there's food-stalls, but they're concentrated together in certain areas, like near the North and South Gate of the old city, near the clubbing areas and near the cultural Nimman area.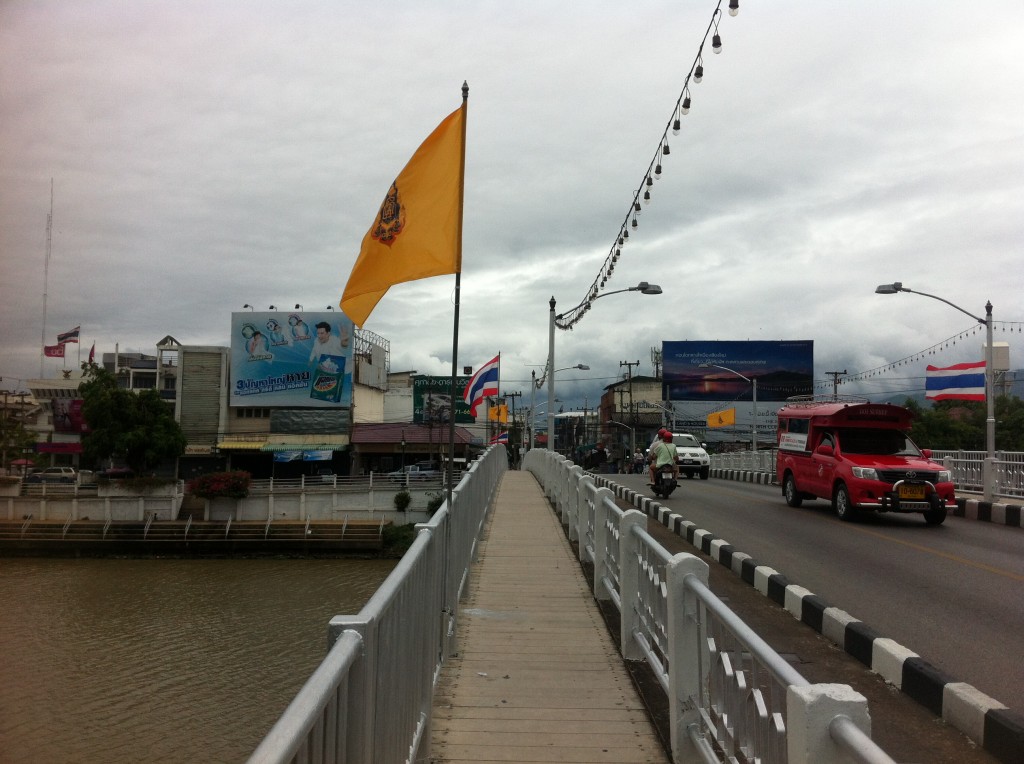 I found out that the red buses (or song thaews, see above) always try to rip of tourists with high prices, but that their actual price is usually only 20 baht (0.40 euros), and when I started shouting "TWENTY, TWENTY, TWENTY" before they even gave me a price, they would get the message and take me away for the real price.
I also discovered the super tasty Northern Thai dish Khao Soy that Chiang Mai was famous for. Here's how it looks: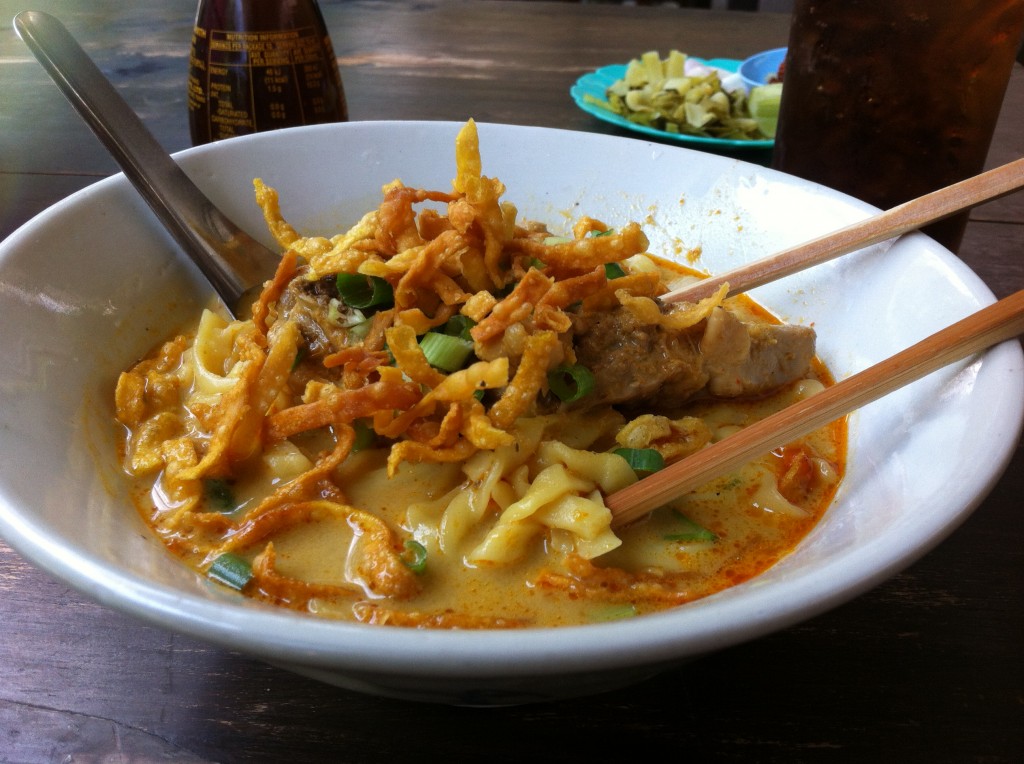 Chiang Mai wasn't that bad after all.
On my third day, I decided to finally visit the co-working space I had heard so much about: PunSpace ».
P.S. I'm on Twitter too if you'd like to follow more of my stories. And I wrote a book called MAKE about building startups without funding. See a list of my stories or contact me. To get an alert when I write a new blog post, you can subscribe below: