I'm learning 3d and it's going to be great. The end goal is to get a scene modeled in 3d and then walk around it in VR. I'm starting with the modeling in 3d part. You can read my wrap up here after one month of 3d.
Every time I see a new video that has anything to do with 3d and virtual reality, I get extremely excited. Like, this stuff:
But I also get extremely insecure about my current skills. What are my skills? Well, I make websites, or web apps. But they're like emulated pieces of paper on a 2d FLAT screen that you can click on and something in this 2d space then reacts.
It feels just very 200 years ago.
My intuition says that we're on the verge of interfaces dramatically changing, stuff always changes, but this is going to be a big one. I was playing with Snapchat for the last month and just seeing how weird this app works made me think a lot. In a way, nothing in Snapchat's interface is intuitive, it requires you to go and explore the app yourself to find out how it works. It's full of hidden and secret features. You have to just tap around and you figure it out. And that's part of the experience. It's fun. It's like a game. But it's not a game, because people actually use it to communicate with each other.
So, maybe these distinctions don't matter anymore.
If you combine that thought with virtual reality, you get an even stronger experience. And I then come to the simple conclusion that we'll see app and games converge into simply virtual reality. As one experience. I mean, that's nothing new, we kinda know that's going to happen but few of us are taking action to change our skills for it. We're all still making flat 2d pages for flat screens. And to be super honest, I think it's getting a bit boring. I'm obviously over exposed by being in this web/app scene for so long. But so much of what's possible has now been done. We have Uber for Cats etc. It seems the only step forward is to find a new space to innovate in is to, well, create that new space and change the limitations of the space we're in. I'm talking literally here, the 2d space is limiting us.
Here's a story about what ISIS did to Palmyra:
The Palmyra offensive of May 2015 was a military operation launched during the Syrian Civil War by the Islamic State of Iraq and the Levant (ISIL) on May 13-26, 2015, in an attempt to capture the government-held Tadmur District of the Homs Governorate, including the administrative centre of Tadmur, known in English as Palmyra. The ruins and ancient monuments of Palmyra, which lie on the south-western fringe of the modern city, have been a UNESCO World Heritage Site since 1980.[22] The ruins were part of a desert oasis that was one of the most significant cultural centers of the ancient world, linking the civilizations of Persia, India, China with the Roman Empire through trade. The offensive was one of the largest offensives launched by ISIL, with the result of the offensive increasing ISIL's control of Syria to at least 50%.
Here's a 3d model of what ISIS did to Palmyra:
The text gives us an idea of what happened. But the 3d model gives us an instant immersive idea of what happened. Both are useful in a different way.
That's why I'm learning 3d.
Up until now, I've produced electronic music, directed music videos, built startups and now I want to do something new. I won't end the other stuff, but I want to learn this new stuff.
I think programming is still the most important thing anyone can learn right now, and it's because it's a uniquely associative skill. You can combine it with any other skills and you get super powers. Combining it with 3d seems like my ideal.
I've been super inspired by @house. A few months ago, she tweeted she was learning 3d too, and without any experience, she made an entire music video in 3d. I'm not that talented but I can try!
I know watching tutorials or courses never works for me. I'll just learn a lot of stuff and not apply it. The only way for me to learn this, is by doing it.
So….I've set up a very practical challenge.
I want to make this photo in 3d in a month: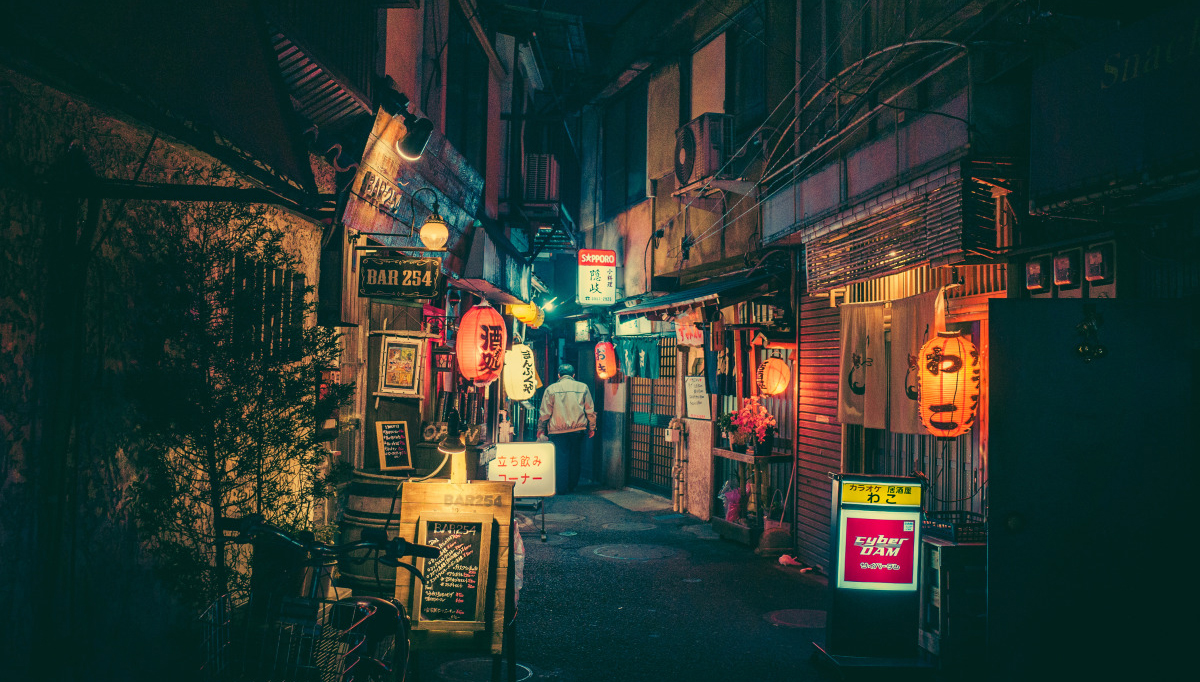 (It's one of my favorite photos, shot by Masahi Wakui in Tokyo.)
I know, that seems ridiculously hard. To me too. And I don't have any experience.
I thought about it, and all I need is a plane of asphalt, 2 walls of wood, some roof and some signs. I can copy some of the textures from the photo and re-make them into a flat texture. I'm not saying it'll look great, but it should be somewhat accurate. I'll be using Cinema4D, as that seems to be the simplest and most popular 3d app now.
It seems a good time to enter 3d now. Like the web, it used to be a mess of different tools like Maya, Cinema4D, 3d Studio Max and Blender, and it seems most (non-pro) creators have moved towards Cinema4D as the standard. Just like in the web, everyone's coding in JavaScript now finally.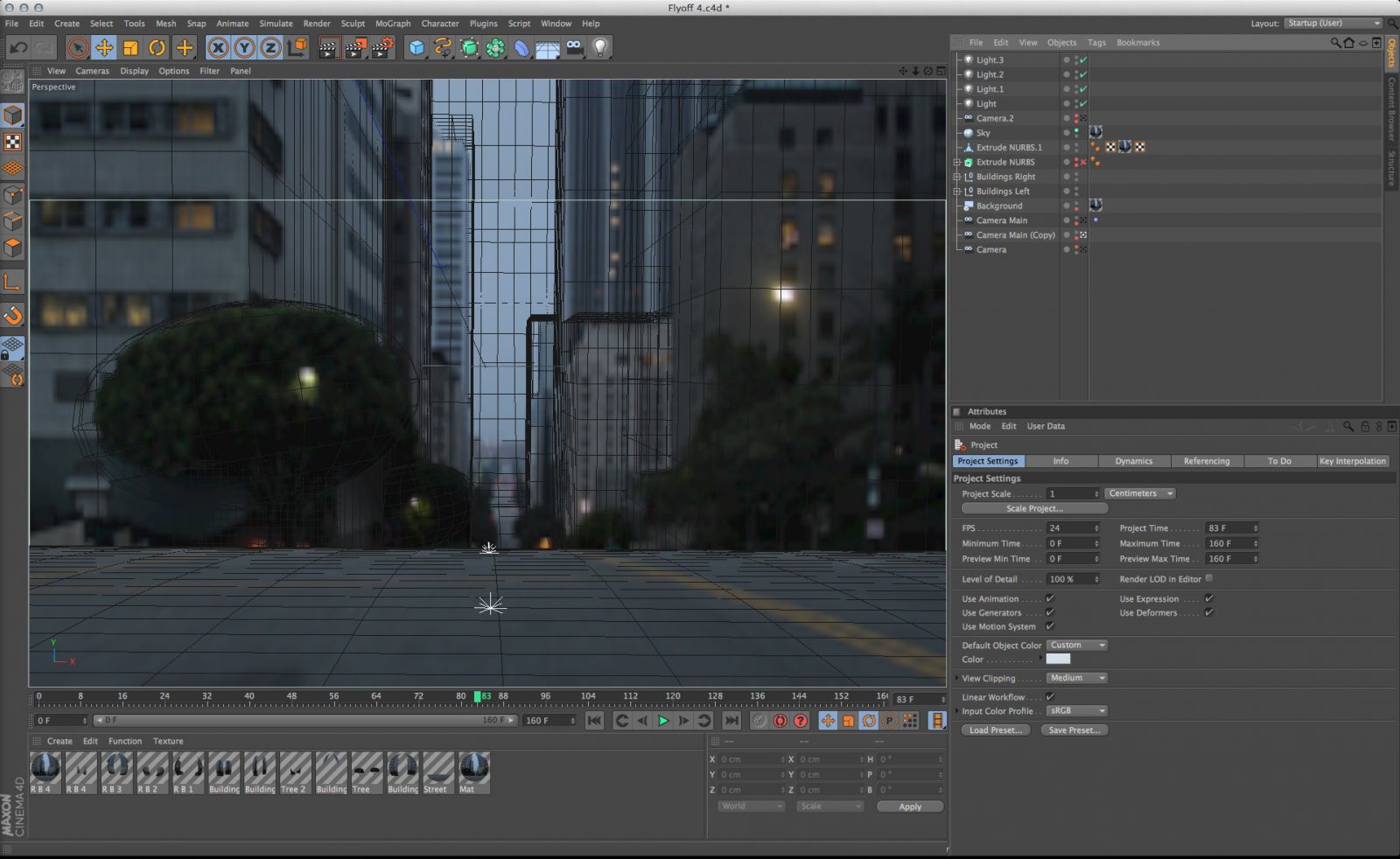 In 3 months, if my 3d street looks okay, I want to be able to walk around in it in first-person view. For that I'll be using Unity 3d. I heard that UnityScript is just like JavaScript, so it can't be that hard.
For sure, it won't look great, but at least I'll get somewhere. I hope. I know this is a good objective because just writing this makes me feel scared and embarrassed because I don't think I can even make this. But last time I set a ridiculous goal, it turned into the craziest 2 years of my life. So, let's goooooooooo.
(P.S. I know what science says about this, publicize your goals and you won't get there, but in fact I think it'll help because the public always keep me accountable.)
I wanna do VR 🎮
So I'm learning 3d 😎

I want to make this photo in 3d in a month 👊 pic.twitter.com/SAXaYmaHgK

— levels.io (@levelsio) February 2, 2016
Read about how I did on my first day of 3d.
Read my wrap up after one month of 3d.
Here's the full listing of posts from this series. I wasn't able to work on it EVERY day because I had to also work on my day job:
Day 1: Learning shapes, moving, rotating, scaling, texturizing and lighting
Day 4: @shoinwolfe visits the actual street I'm modeling
Day 10: Making complex objects by combining shapes
Day 20: Objects and camera perspectives
Day 21: High res textures, physical rendering and ambient occlusion
Day 22: Adding rain, blinking lights, sound, textured menu sign and a VR web app
Day 23: Filling up the street and adding shadows
Day 27: Details, details, DETAILS!
Day 29: Glass, reflectives, HD, coloring and more details
Day 30: Cloning objects
P.S. I'm on Twitter too if you'd like to follow more of my stories. And I wrote a book called MAKE about building startups without funding. See a list of my stories or contact me. To get an alert when I write a new blog post, you can subscribe below: