Michael Thomas (aka @curious_founder) wrote story on how they used me to break through into journalism called "The Art of Pitching: How I Got Published in The Atlantic". It's since been removed due to the backlash is got after I published my reaction to it, but it's available on the Internet Archive.
This is my story how someone got an idea for an article, interviewed me, then changed my answers into what they wanted, and published it defaming me in the process. Years later I still get messages about this article:
Here we go:
I was the first person to be interviewed by this journalist, Michael Thomas aka @curious_founder from Campfire Labs in Denver, Colorado. He approached me on Twitter to ask questions about digital nomads and remote work life (as I founded Nomad List and have been doing it for years).
I told him it'd be great to see more honest depictions as most articles are heavily idealized making it sound all great, when it's not necessarily. It's ups and downs (just like regular life really).
What happened next may surprise you. He wrote a hit piece on me changing my entire story that I told him over Skype into a clickbait article of how digital nomadism doesn't work and one of the main people doing it for awhile (me) even quit, settled down and gave up altogether.
http://qz.com/775751/digital-nomad-problems-nomadlist-and-re...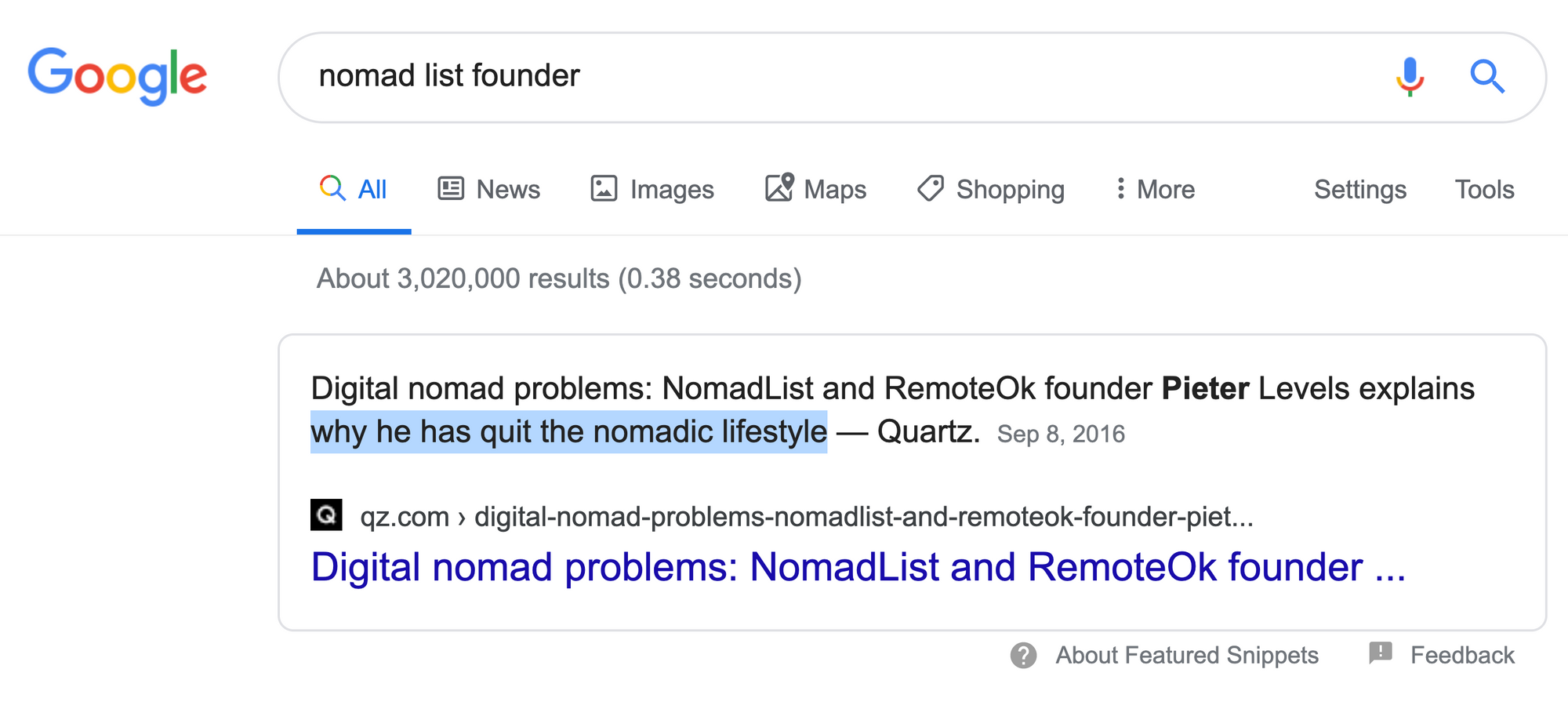 I didn't settle down or quit. I spent the summer in Amsterdam. Cause you know, it's a nice place! But he needed to say this to make a polarized hitpiece with an angle. And that piece became viral. Resulting in me having to tell people daily that I didn't and getting lots of flack. You may understand it doesn't help if your entire startup is about something and a journalist writes a viral piece how you yourself don't even believe in that anymore. I contacted the journalist and Quartz but they didn't change a thing.
It's great this meant his journalistic breakthrough but it hurt me in the process.
I'd argue journalists like this are the whole problem we have these days. The articles they write can't be balanced because they need to get pageviews. Every potential to write something interesting quickly turns into clickbait. It turned me off from being interviewed ever again. Doing my own PR by posting comment sections of Hacker News or Reddit seems like a better idea (also see how Elon Musk does exactly this, seems smarter).
So yes, I'd argue don't follow this guy's path, instead be nice, honest and write interesting articles. It might take longer but you'll have more karma and long-term more success. And maybe you can convince me to do interviews again, some day :)
Reposted from Hacker News where there's a nice discussion about this:
anigbrowl on Jan 6, 2017 [-]
I read your how-to article, and enjoyed your writing. And I came away with the impression that Pieter (who I had never heard of before) had chosen to settle down in Amsterdam, as in buying a house or somesuch. I wasn't interested enough in digital nomadism to go and read the article about him, but I thought I might read it over the weekend.

Then I come here and discover that Pieter was just spending a few months in Amsterdam (and as he said, why wouldn't you if you had the opportunity), followed by your side of the story, which by now is taking on a life of its own, perhaps to the be the subject of its own article one day.

Look Mike, you may have made a rookie mistake (or several of them) on your first story, but by the time you wrote this how-to guide you were aware of both the errors and the fact that the errors seriously pissed off the subject of the article and his fans. And yet here you are, still telling the story about about how you got your ass in gear, pitched a story about a digital nomad who settled down, and mention that in the process of writing it you learned additional detail. I would never have guessed form this that you put your foot in it and it resulted in some negative publicity for both your subject and your publisher.

That's not cool. While most of the facts in the story are true, your idea that they can be subordinated to support the narrative that inspired you is bullshit, in the technical sense of a disregard for the factual rather than a deliberate untruth. If you feel the facts should fict the narrative then don't call yourself a journalist. Write fiction whether wholly invented or dramatized versions of real events, or advertorials, or whatever. In journalism facts have to be subordinate to narrative even if that means your story hook breaks.

Now, I feel an literary theory argument coming back towards saying that all journalism is inherently subjective and contains narratives, but you're not writing for an audience of ironically detached English majors who want a nice think piece with some amusing stylistic flourishes, you're writing for a general audience whose primary interest in your article is the actual subject matter. Your job as a writer here is to adapt everything to the truth of your subject. 'Globetrotter takes a breather' isn't quite as compelling a hook as 'nomad settles down' but it's up to you to mine those more prosaic facts for whatever gems of human interest gleam therein.

And please don't use the 'tight deadline' excuse. It was your first story, yes? So you either leave yourself some wiggle room or be extra extra careful to represent your subject accurately. While your feelings and emotions have been hurt by Pieter haunting you on the net, how much worse do you think he felt to see an inaccurate portrayal of himself in a prestigious nationally read magazine, which readers default to taking at face value? I'm going to give it to you straight: he's haunting you because you fucked up, you're compounding your fuckup by glossing over it in your personal marketing, and you're compounding it again by relitigating the issue in public. Everyone makes mistakes, but how you handle them is what makes you a professional as opposed to a hack.

When you fuck up at work, especially if you're freelance, you need to take the same approach you would with a family member or spouse: own it, apologize, and then shut up. It's possible that nobody has told you this, and you're also surrounded by cultural signifiers of people who built whole careers (and possibly now administrations) on peddling bullshit, but I'm pretty sure that you didn't agonize for years over your desire to be a writer so that you could peddle a slightly different flavor of bullshit, did you? Now that you've figured out how everyone else sells stories, you need to find a different and better way to do that. There are lots of techniques that work in terms of getting readers' attention, but ultimately end up shortchanging them - bathos, hyperbole, burying the lede, and so on. It's true, you need a hook and you need to bait it with something so readers will bite and you can get paid. But the day taht the fish start to think your bait always smells a bit off, it's over.
I couldn't have said it better.
I got clickbait hit pieced by a hack, not a journalist.
P.S. I just wrote a book on bootstrapping indie startups called MAKE. And I'm now on Twitter too if you'd like to follow more of my adventures. I don't use email so tweet me your questions.